Contemporary Duets for flute & accordion
Contemporary Duets for flute & accordion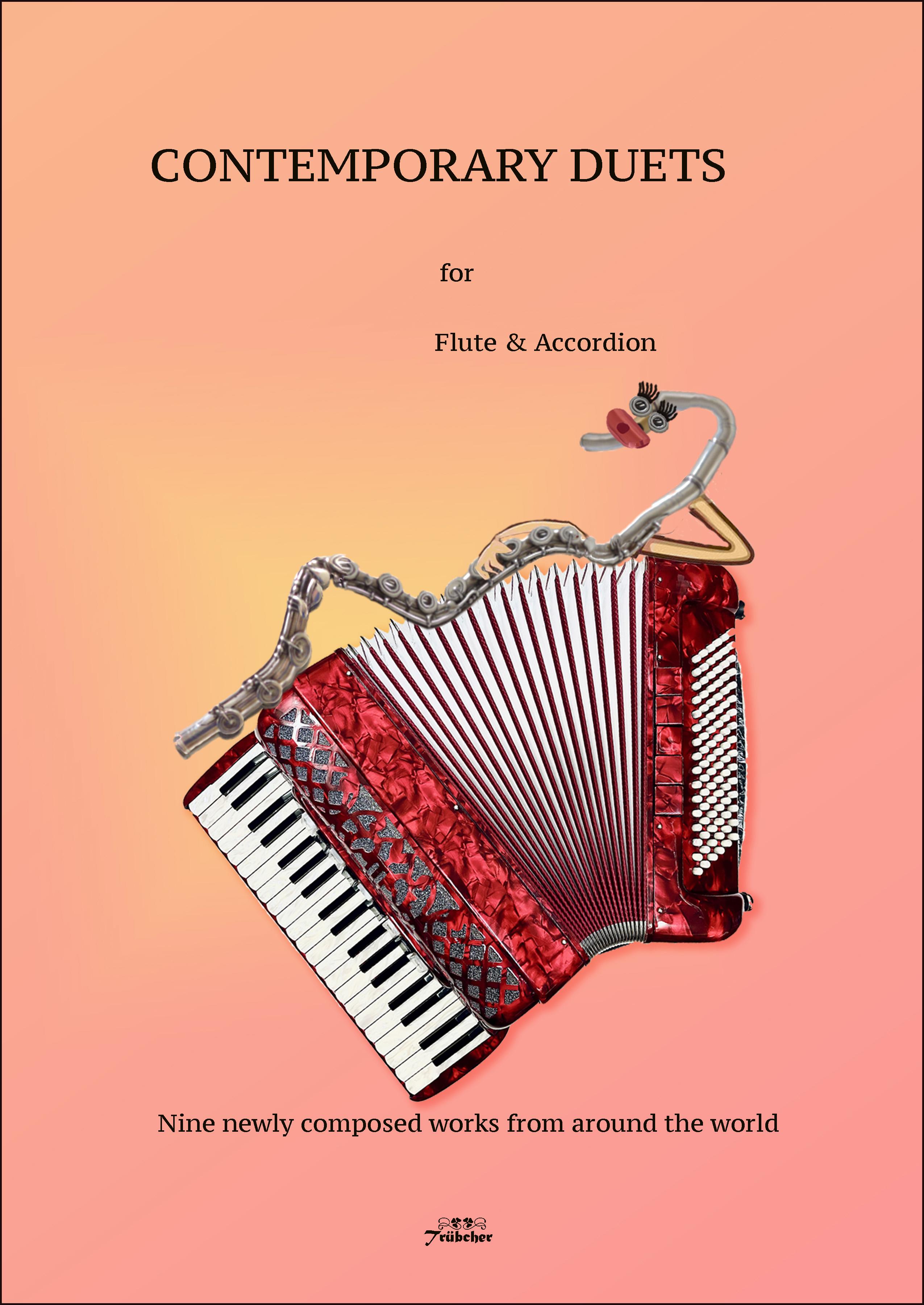 Contemporary Duets for flute & accordion
---
Earn 0 reward points
---
Instrumentation: flute & accordion (bayan)

Difficulty Level: 

advanced [uk grade 7-9]
Genre: Contemporary
979070-8135-93-7
If you like playing contemporary music and exploring the possibilities of your instrument through modern techniques, you will like this edition of nine pieces especially composed for flute and accordion by male and female composers from around the world. Accordion players particularly will be delighted by the opportunities and challenges presented by these new works.
The printed edition comprises a separate flute part (44 pp) plus a wire bound volume of the accordion part (48pp) and then the complete scores (74pp) with composer notes and glossary. The PDF edition has 152 pages.
The contents, with titles and composers names, can be found in More Details.
Cover Design ©Roz Trübger 2021
original accordion photo ©Andrew & The Accordion Shop UK 2021
the YouTube Video is 'In Memoriam' composed by Chris Hung.
1. Ein winterlicher Moment (Eun-Young Jang) )
    ©Eun-Young Jang 2019
2. In Memoriam (Hung)
    ©Chris Hung 2017
3. Choroy (Buenante)
    ©Danilo Buenante 2020
4. Dancing Rhythm of the Dunes (Filippi)
    ©Marianna Filippi 2020
5. A Mockingbird in the Mist (Harizanos)
    ©Nickos Harizanos 2019
6. Stikla Lauska (Semjenova)
    ©Marita Semjonova 2019
7. Three Palimpsests (Tipp)
    ©Devon Osamu Tipp Green Giraffe Music 2019
8. Shame! (inner Working II) (González Escalera)
    ©Román González Escalera 2019
9. Paramita 1 (Mălăncioiu) - the final section is written for bass flute & accordion.
    © Gabriel Mălăncioiu 2013
The PDF has 168pp. Both the score and the accordion part have a wide margin to allow for binding.