Artina - vol.1 - new pieces for flute & accordion
Artina - vol.1 - new pieces for flute & accordion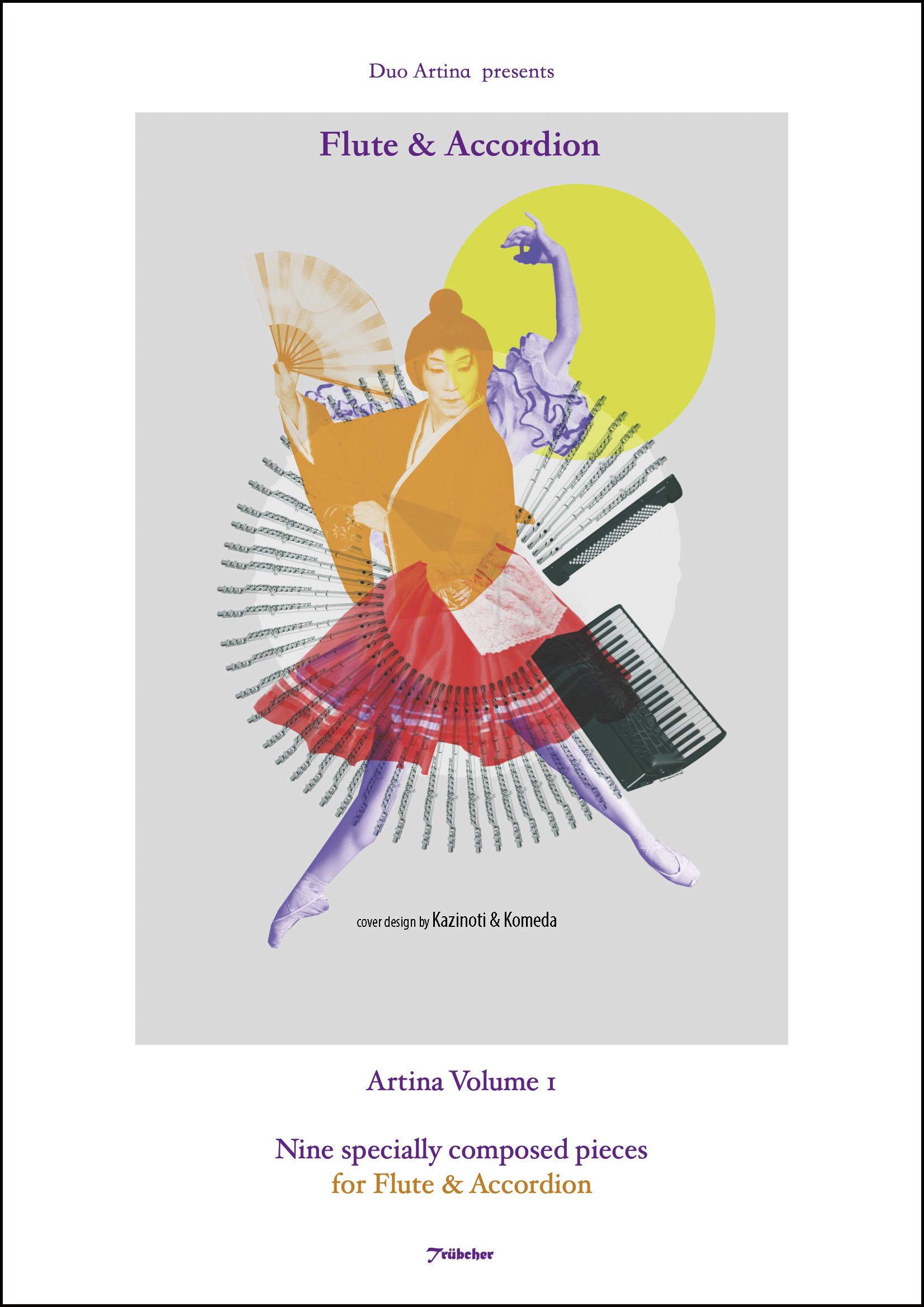 Artina - vol.1 - new pieces for flute & accordion
---
Earn 0 reward points
---
Instrumentation: flute & accordion

Difficulty Level: 

advanced [uk grade 7-9]
979070-8135-92-0
Nine especially composed pieces by living composers* from around the globe, written for and dedicated to Andrea Jelavić (flute) & Martina Jembrišak (accordion) who perform as Duo Artina.
A stunning set of pieces with titles ranging from the gentle Lullaby or rhythmic Milonga through to the exciting Wind Ride, gives a variety of moods and styles suitable for performance, all offering interesting challenges for the players. A separate flute part (24pp) comes with a large wire-bound edition that contains the accordion part (carefully laid out to allow for page turning) followed by the complete score. Its striking cover has been designed by Kazinoti & Komenda.
*A full list of the contents, with titles and composers names, can be read in More Details.
In the video, Andrea & Martina perform extracts from some of the nine pieces beginning with 'Small Suite' by Watahiki followed by 'Oiseaux' by Bernie Walasavage and finally 'Wind Ride' by Takumi Kawamoto.

 1: Milonga Triste (Andronikou)
    © Michalis Andronikou 2017/2019
 2: Duo (Brickman)
    © Scott Brickman July 2017
 3: Lullaby (De Lillo)
    © Massimo De Lillo 2019
 4: Ædmonitio (Cristales Armas)
    © Mauricio Cristales Armas 2019
 5: Lullaby: sundown in winter
    © León, Arn Magnus y Ruy Martín-Oteo,  
     Martin-Jaime y Reyes Oteo Dec. 2019
 6: Small Suite (Watahiki)
    © Kotaro Watahiki 2019
 7: Wind Ride (Kawamoto)
    © Takumi Kawamoto 2020
 8: Ora Pro Nobis 3 (Aguirre)
    © Louis Franz Aguirre 2019
9: Oiseaux (Walasavage)
    © Bernie Walasavage 2019
The accordion part is edited by Martina Jembrišak.
The PDF has 139pp. Both the score and the accordion part have a wide margin to allow for binding.