Dances from Brazil for Yamaha Alto Venova YVS120 with free play-along accompaniment
Dances from Brazil for Yamaha Alto Venova YVS120 with free play-along accompaniment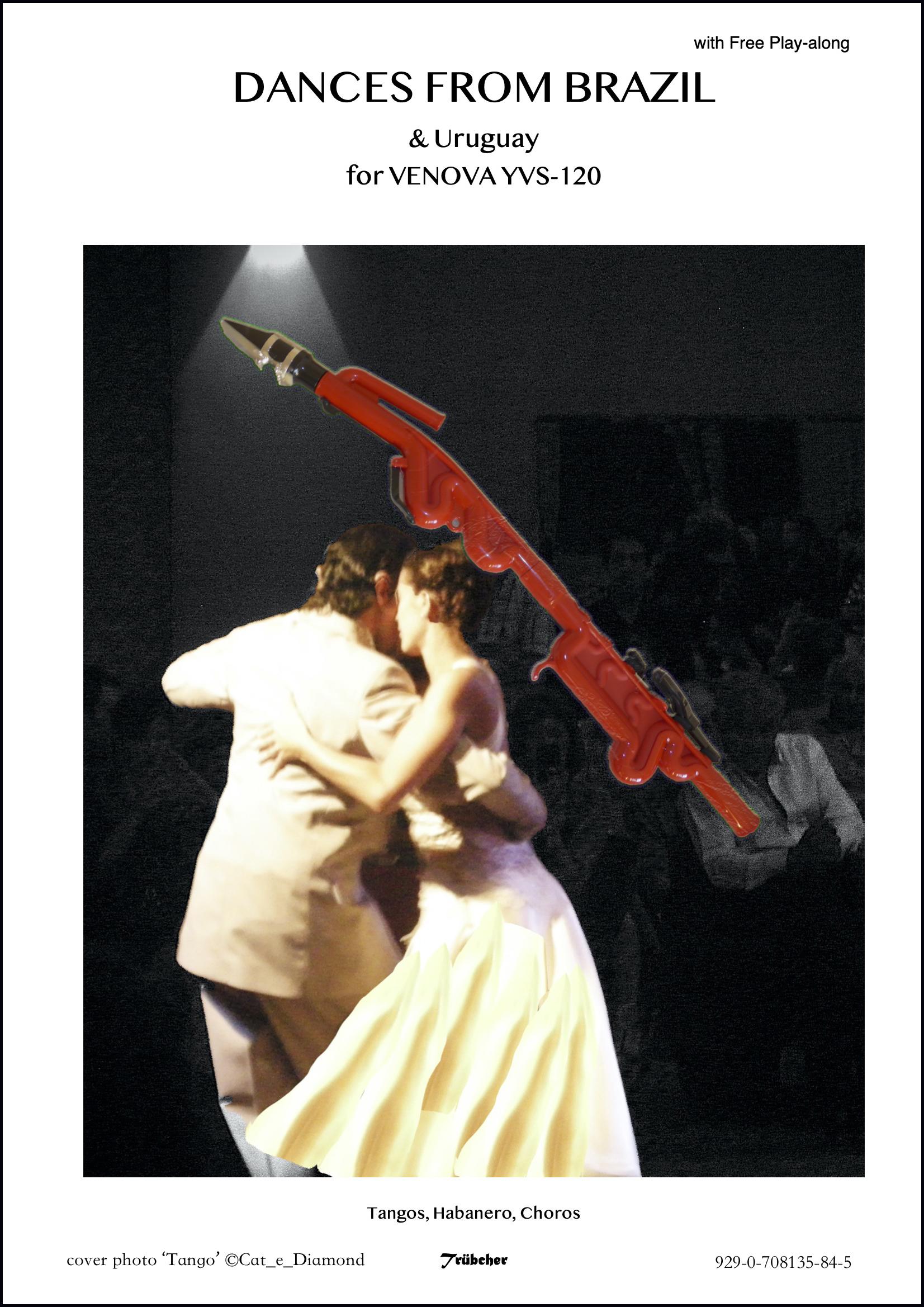 Dances from Brazil for Yamaha Alto Venova YVS120 with free play-along accompaniment
---
Earn 0 reward points
---
Instrumentation: Yamaha YVS-120 Venova [fingering in F] (& piano*)
*a piano accompaniment is included with the printed edition, or offered as an option to download.
Free play-along piano accompaniment to stream from YouTube

Difficulty Level: 

Intermediate
Arranger: Roz Trubger

Format:

Printed Edition or PDF digital download
Tangos, a Habanera & Choros including the ever popular Tico-Tico na fuba.  This fun collection of Latin American pieces has been arranged specifically to suit the characteristics of the Yamaha Alto Venova YPC-120 [in F]. Players will delight in the sounds of Brazil where Choro [trans: Lament], with its roots in the lively European Polka, is characterised by a melancholy quality over sprightly syncopated rhythms.
Habanera (Uruguay) - Philippe Courras
Isto é Bom!.. (Brazil) chôro carioca - Eduardo Souto
Um chôro na Praia Grande (Brazil) - Eduardo Souto
Marulhos (Brazil) tango argentino - Eduardo Souto
Day Break, ainda não morreu (Brazil) tango - Francisca Gonzaga
O Pyrilâmpo (Brazil) tango-lundu - Germano E. Lopes
Tico-Tico no fubá (Brazil) chôro sapéca - Zequinha Abreu
Play-Along Accompaniment for every piece free to stream from our YouTube ChannelTrubcher Playlist 'Dances from Brazil' (Alto Venova / Cor Anglais). The piece featured in the video above is by the female composer Chiquinha.

Click for YouTube 'Dances from Brazil' Trubcher play-along playlist
The Printed Edition is complete with a solo part [12pp] attached inside a printed cover plus a separate piano part [32pp]. Each part includes four pages of useful information
The PDF digital downloads are A4 pages that can be printed. The layout is the same as for the printed edition.
The latter part of the c.19th was a very exciting time for composers to be alive and working in Latin America. These are the composers included in our edition:

Germano E Lopes : very little is known about him, although he seems to have been a musician of importance, active as a composer, pianist and conductor in Rio de Janiero in the last half of the c.19th. There is an account of him having performed at the Club Fluminense in a 'Great Concert generously offered by the distinguished pianist L.M. Gottschalk to increase the Patrimony of the Sociedade Portuegeza de Benefiencia….and the orchestra was directed by the eminent maestro sr. Germano Lopes.'

Francisca Gonzaga [better known as Chiquinha] (1847 – 1935) was a composer and pianist. In her time, freedom and equality were not easily attained by women in Brazil, so it is worth going to the internet to read about her interesting life - how she defied convention in order to be able to pursue a career in music and ultimately to live with the man she loved. On one occasion, she outraged Society in Rio de Janeiro by performing a duet with the President's wife at the palace. Chiquinha was also the first female conductor in Brazil. ( https://chiquinhagonzaga.com/wp/)

Philippe Courras (1863 - 1920) was born in Montevideo, Uruguay, although he spent most of his working life in France at D'Aîx-en-Provence, where he championed the works of Th. Dubois. He died near Paris in Neuilly-sur-Seine.

Zequinha Abreu (1880 - 1935) is probably the best known of the composers represented in this book, but not necessarily the most influential of them. He was a composer and pianist, and also played flute.

Eduardo Souto: (1882 - 1942)  was an active and important figure in Brazilian music. As well as composing, he formed ensembles and founded the Casa Carlos Gomes in 1919, which traded in musical instruments, published sheet music and became an important meeting place for musicians in Rio de Janeiro. Before and subsequent to his period of great musical activity, he worked as a banker.