The Devil's Trill (Tartini arr. Trübger) for Piccolo & Piano [Devils Trill]
The Devil's Trill (Tartini arr. Trübger) for Piccolo & Piano [Devils Trill]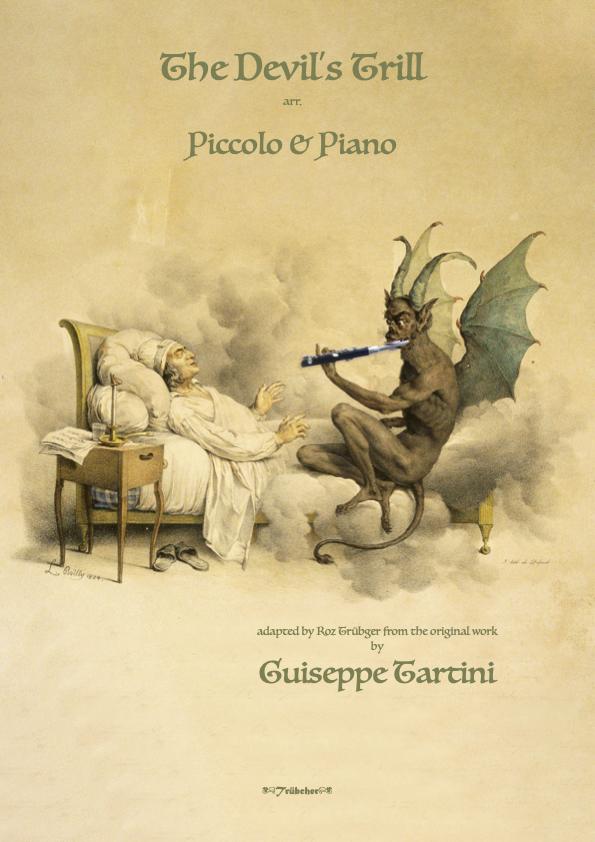 The Devil's Trill (Tartini arr. Trübger) for Piccolo & Piano [Devils Trill]
---
Earn 0 reward points
---
Instrumentation: piccolo & piano.
Title: The Devil's Trill (sonata)
Composer: Guiseppe Tartini arr. R. Trūbger
Genre: Baroque
Difficulty Level: upper intermediate - advanced.
Printed Edition or PDF digital download

979-0-708209-00-3
A fun piece to play, and a fun story to tell the audience. Tartini composed the Devil's Trill after dreaming that Satan sat playing it at the end of his bed.
And you hear the story in the music: the first movement is beautiful and lyrical, Tartini is sleeping happily - but it starts to hot up in the fast second movement, and then the third movement is full of trills and devilish harmonies. 
The composer was himself a virtuoso player (violin) and performed at top speed, this edition will be fun for advanced piccoloists. Also it will be highly enjoyable for players of an intermediate ability when taken at a more steady tempo.
I have created a play-along piano accompaniment which is free to use at https://youtu.be/oNIDuRsQsnc [all repeats omitted, moderate tempos] Movt 2 starts at 2'23". Movt 3 starts at 5'.44"
Guiseppe Tartini (1692 - 1770) was born in Piran, a seaside town in Slovenia, not far from where I live. In the composer's day, Piran was part of the Province of Venice.
Larghetto affectuoso
Tempo guisto
Andante - Allegro assai
My edition is based on the first published edition of the work, except I have transposed it from the original key [G minor] into B minor so as to make it more suited to the range of the piccolo. In all other respects, I have kept closely to Tartini's original, apart from removing a very few notes from the solo part in order to give the player a chance to breathe! For the realisation of the keyboard part, I likewise worked from the original, preferring to keep the often challenging harmonies that Tartini indicates.
The articulations are editiorial and may be altered to suit the performer.