Exam & Repertoire Solos vol.2 (intermediate) for flute & piano
Exam & Repertoire Solos vol.2 (intermediate) for flute & piano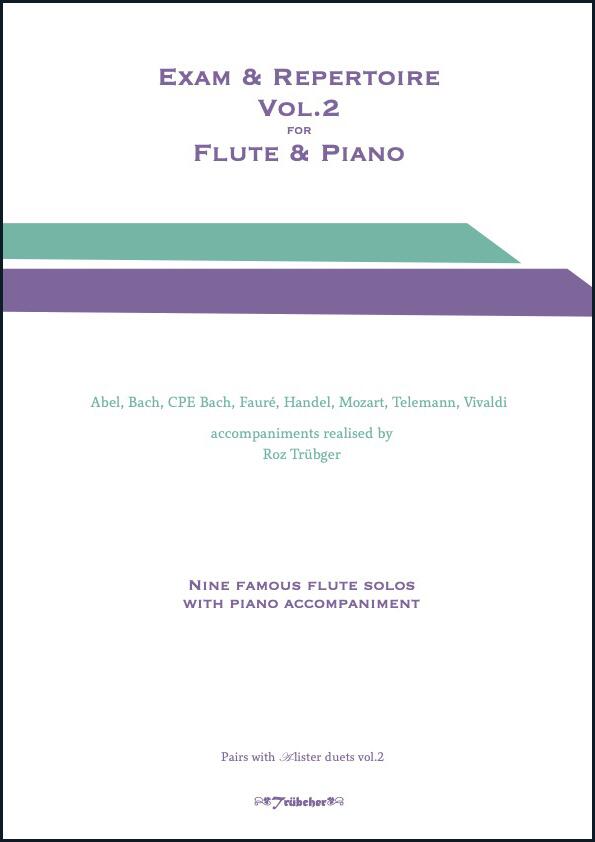 Exam & Repertoire Solos vol.2 (intermediate) for flute & piano
---
Earn 0 reward points
---
nine solos for flute with piano accompaniment.

Instrumentation: flute & piano.

Difficulty Level: intermediate [ UK grade 4 - 6].

Edited by Roz Trubger
979-0-708209-08-9
 See Description 2 for the Contents
eagerly awaited follow-up to the hugely popular Volume 1. This comprehensive collection features pieces that currently are, or have been, included in the exam syllabus for grades 4 - 6 of ABRSM and Trinity.
The edition offers an excellent opportunity for intermediate level players to become acquainted with some standard flute repertoire from the Baroque to the Romantic period while also developing their skills. Each piece in this collection has been carefully chosen to provide a rewarding playing experience for the player while, at the same time, a valuable learning tool.
Exam & Repertoire Volume 2 is perfect for flute teachers who are looking to supplement their teaching materials with a diverse and challenging selection of pieces or who need several exam pieces in one book. But it's also perfect for students who are looking to expand their repertoire and challenge themselves with new and exciting pieces.

This edition also provides the piano accompaniments for the same pieces published as A-Listers Duets Vol. 2
CONTENTS
1st movement

Concerto in F

(op.10 no.5)



 - Vivaldi, A.

(1678 - 1741)

1st movement 
Sonata in F

(TWV 41:F2)

 - G.P. Telemann

(1681 - 1767)

3rd movement

Sonata in E major

(BWV 1035)

 - Bach, J.S.

(1685 - 1750)

2nd movement
Sonata in G minor

(BWV 1020)

 - J.S / C.P.E. Bach

 (1714 - 1788)

2nd movement
Sonata in G major

(op.1 no.5)

 - Handel, G.F.

(1685 - c.1759)

2nd movement

Sonata in E minor

(wq124)



 - Bach C.P.E

 (1714 - 1788)

1st movement

Concerto in C

(wk46)



 - Abel, C.F

.

(1723 - 1787)

2nd movement

Quartet in D

(K285)



 - Mozart, W.A.  

(1756 - 1791)



Berceuse

(op.16)



- Faure, G.

(1845 - 1924)