Kjerulf, H. : Hjertesorg (song cycle for 2 soloists & piano) - vocal score
Kjerulf, H. : Hjertesorg (song cycle for 2 soloists & piano) - vocal score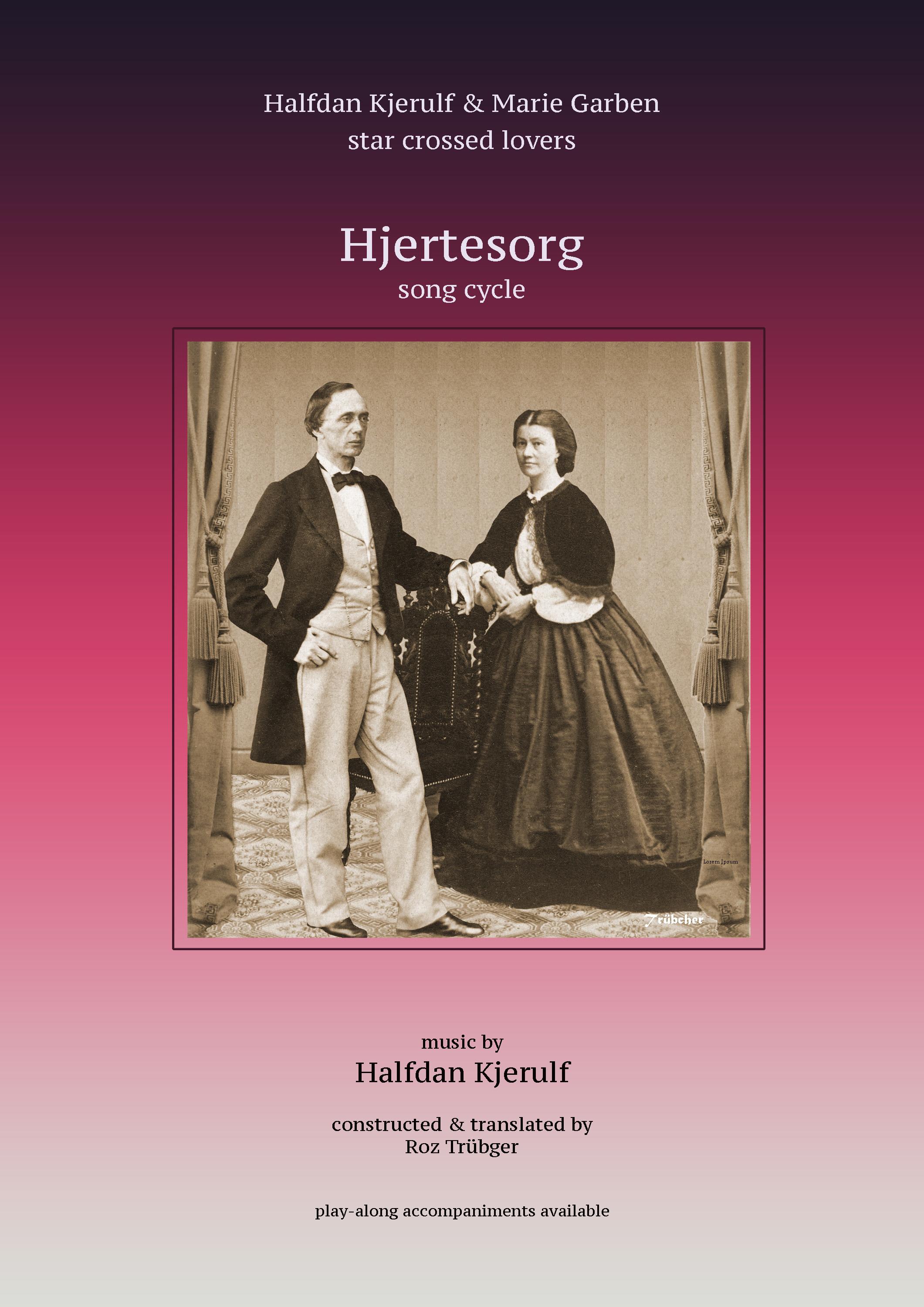 Kjerulf, H. : Hjertesorg (song cycle for 2 soloists & piano) - vocal score
---
Earn 0 reward points
---
Composer: Kjerulf, Halfdan (1815 - 1868) 

Genre: 

Romanser /Norwegian Lieder

Format:

Printed Book or digital PDF [55 pages]
Language: German, Norwegian/Danish & trans.English
Devised and translated:  R. Trubger
Duration: 30:00
979070-8082-62-0
United at last in a single photo on the front cover*, the composer Halfdan Kjerulf (1815 - 1868) and the love of his life, Marie Garben. Their relationship, the tale of star crossed lovers, is told through this cycle of nine solo songs and two duets composed by Kjerulf between 1852 and 1867. It takes us on an emotional journey from joy as the pair wander in a woodland filled with birdsong, through fear, doubt and longing, to the final poignant silence as they accept that their hopes are at an end. In fact, although Halfdan and Marie could never marry, they remained friends for the rest of their life and never married anybody else.

Roz Trübger (a trained singer, dramatist & arranger) says:
Kjerulf has a masterly ability to write beautiful songs, and I selected the eleven for their wonderful-to-sing quality as well as the programmatic style of the accompaniment and each one's suitability to be part of the story. Kjerulf is acknowledged as the father of the Romanser (Norwegian Lieder) and his work, which inspired Edvard Grieg, easily stands alongside that of his better known German contemporaries, such as Schumann. My work on the translations was very careful, as I wished to remain faithful to the rhythm and rhyme of the original as well as to the meaning of the texts, so that the songs can be sung in either of the languages. Hjertesorg is dedicated to my late friend, the Kjerulf scholar Nils Grinde (1927 - 2012). At the time of publishing this edition, to my knowledge some of the included songs have not been performed for more than 100 years.

Hjertesorg is also available as an edition for voice and orchestra, with my richly orchestrated accompaniments. For more information or to hire the orchestral parts contact me
Hjertesorg requires two soloists, a soprano and a tenor /high baritone. Kjerulf composed using texts in several languages, and so to symbolise the misunderstanding that occurred to end their love affair, the songs for 'Halfdan are in Danish Norwegian, whilst all Marie's songs are in German, apart from 'Synnøves Sang' which has a Norwegian text and stands as a pivotal moment in the work. It is also possible to sing all of the work in English.
*Cover Design created by merging two photos with the kind permission and courtesy of Museum of Oslo ©Roz Trubger 
Originals photos:
Halfdan Kjerulf: Unknown ©Museum of Oslo
Marie Garben: Claus Peter Knudsen ©Museum of Oslo.
SAMPLE:


Contents:
| | |
| --- | --- |
| 1.   Fuglekvidder | Duet |
| 2:  Skovbækken | Halfdan |
| 3:  Spanische Romanze | Marie |
| 4:  Min Hjerte og min Lyre | Halfdan |
| 5:  Sehnsucht | Marie |
| 6:  Om jeg elske vil dig | Halfdan |
| 7:  Die Schwester | Marie |
| 8:  Serenade | Halfdan |
| 9:  Synnøves Sang | Marie |
| 10: Täuschung | Marie |