La Tristesse (M. Lysenko) arr. alto flute & piano (or optional instrument in C)
La Tristesse (M. Lysenko) arr. alto flute & piano (or optional instrument in C)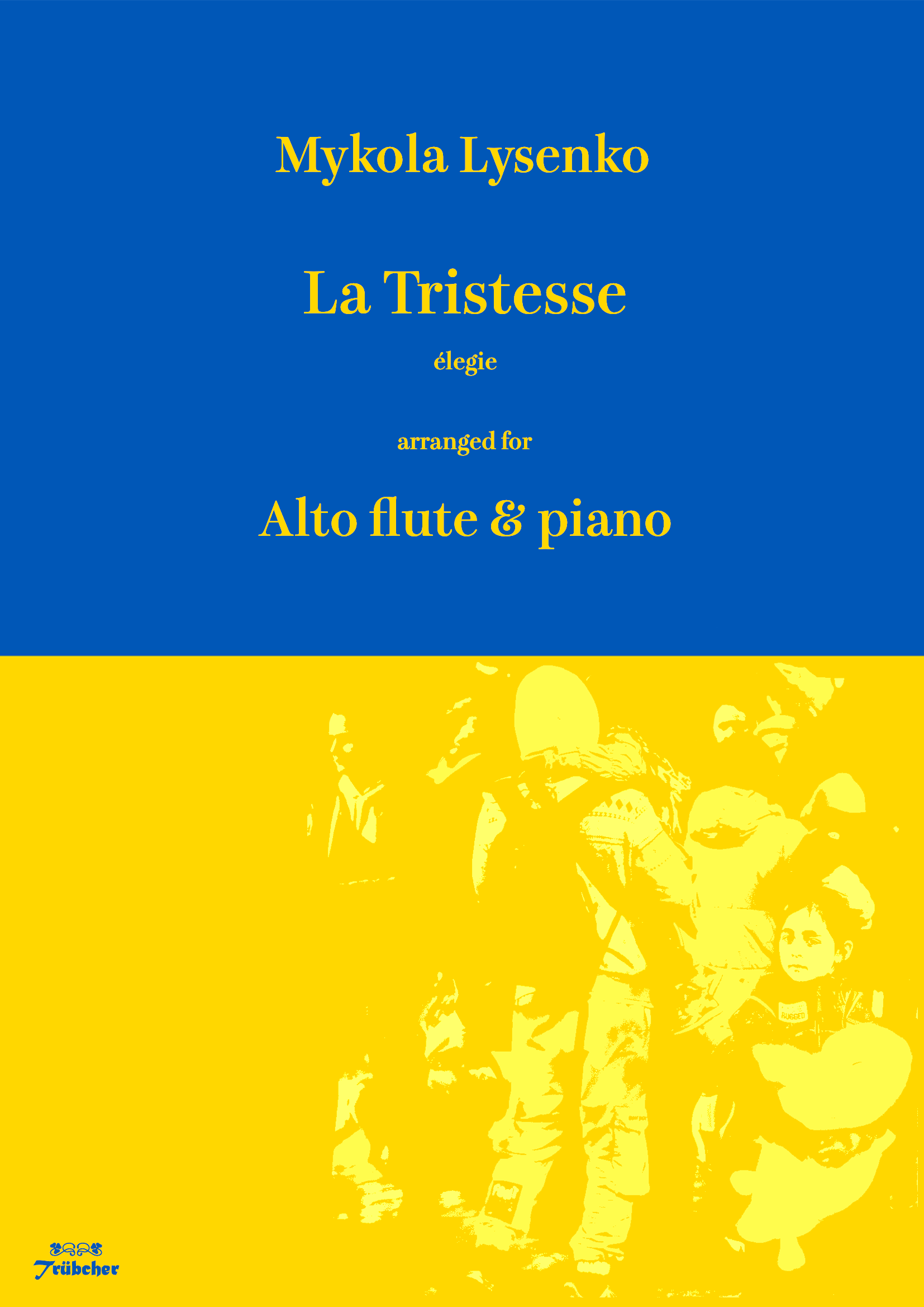 La Tristesse (M. Lysenko) arr. alto flute & piano (or optional instrument in C)
---
Earn 0 reward points
---
printed copies are now in stock & available to purchase

Ukrainianian music specially arranged for alto flute & piano
(or optionally for instrument in C)
Free play-along piano accompaniment to stream from YouTube

Difficulty Level: 

intermediate and above.
Arranger: Roz Trübger

Format:

Printed Edition or PDF digital download.
979-0-708135-99-9
For every copy of the edition that is sold (printed or PDF), I will make a £1 donation to the Disasters Emergency Committee Ukraine appeal
In February, 2022 the world looked on in horror as Ukraine was invaded by Russian troops. Like millions of others, I wanted to help, so this arrangement of op.39 by the Ukrainian composer, Mykola Lysenko, is my own personal contribution of support for the victims. The title [trans: sorrow] and the style of the music reflect my sense of sorrow at what is happening in Europe right now, and the sonorité of the alto flute perfectly captures the appropriate soulful quality. The edition is dedicated to the people of Ukraine and to all those who support peace.
Mykola Lysenko (March 22, 1842 - 24 November, 1912) is an important figure in Ukrainian musical history and regarded as the father of the nation's national style of composition. The music school in Kviv is named after him. Lysenko collected and published a large number of folk songs as well as composing songs set to texts by Ukrainian poets. He studied orchestration with Rimsky Korsakov and his output includes several large scale compositions.  
Roz Trübger (March 2022)
The video is a free play-along of the piano part (starting at measure 7, after the 6 bar unaccompanied flute solo).
The Printed Edition is complete with a solo part [2pp] attached inside a printed cover. There is also a separate piano part [12pp]. 
The PDF digital downloads are A4 pages that can be printed. The layout is the same as for the printed edition. These pages have our DLD code to show that they are legitimate.