Andronikou : Two Pieces for flute & guitar
Andronikou : Two Pieces for flute & guitar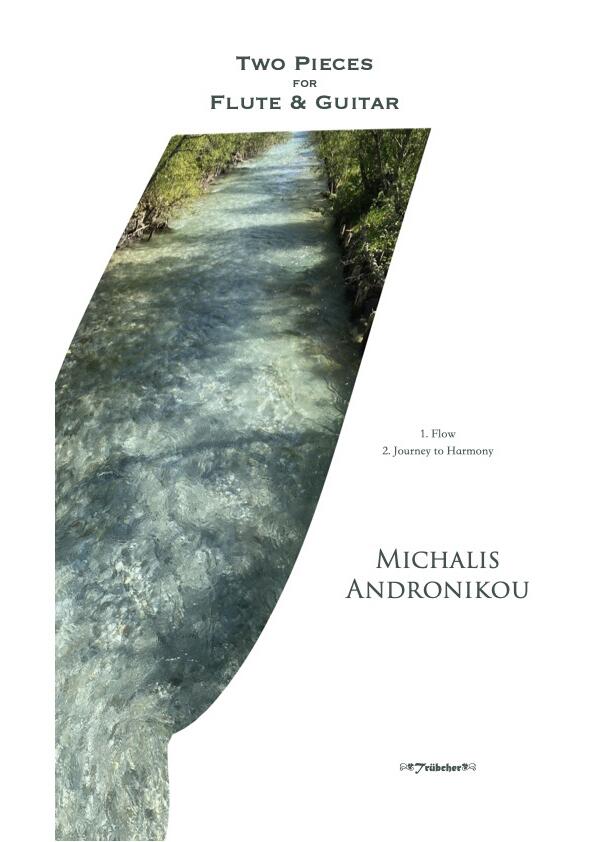 Andronikou : Two Pieces for flute & guitar
---
Earn 0 reward points
---
Movements: (1) Flow (2) Journey to Harmony

Composer: Michalis Andronikou

Instrumentation: flute & guitar.

Difficulty Level: Intermediate - Advanced.

Duration: (Flow) 4 mins (Journey to Harmony) 2 mins

Genre: Contemporary lyrical.

Formats:Printed Edition or PDF digital download
979-0-708209-06-5
The composer says about these pieces:
Flow: In positive psychology, a flow state, also known colloquially as being in the zone, is the mental state of operation in which a person performing an activity is fully immersed in a feeling of energized focus, full involvement, and enjoyment in the process of the activity.
Journey to Harmony : The term harmony derives from the Greek ἁρμονία (harmonía), meaning "joint, agreement, concord," from the verb ἁρμόζω (harmozo), "to fit together, to join." The term was often used for the whole field of music, while "music" referred to the arts in general. In this piece, Harmony is the process of balance between contrasting worlds: Western and Mediterranean music, consonance and dissonance, chromatic and diatonic material, melody and extended techniques.

Michalis Andronikou is a composer and musicologist currently residing in Calgary, AB. He has a PhD in composition as well as Diplomas in Classical Guitar and in Byzantine Music, and he also has studied Greek folk instruments. He is an associate composer of the Canadian Music Centre, a member of the Canadian League of Composers, a theory examiner of the Royal Conservatory of Music, a member of the Greek Composers Union, and a member of the Center of Cypriot Composers.
PDF download = 23 printable pages