Dances from Brazil (& Uruguay) - Flute & Piano with free Play-along
Dances from Brazil (& Uruguay) - Flute & Piano with free Play-along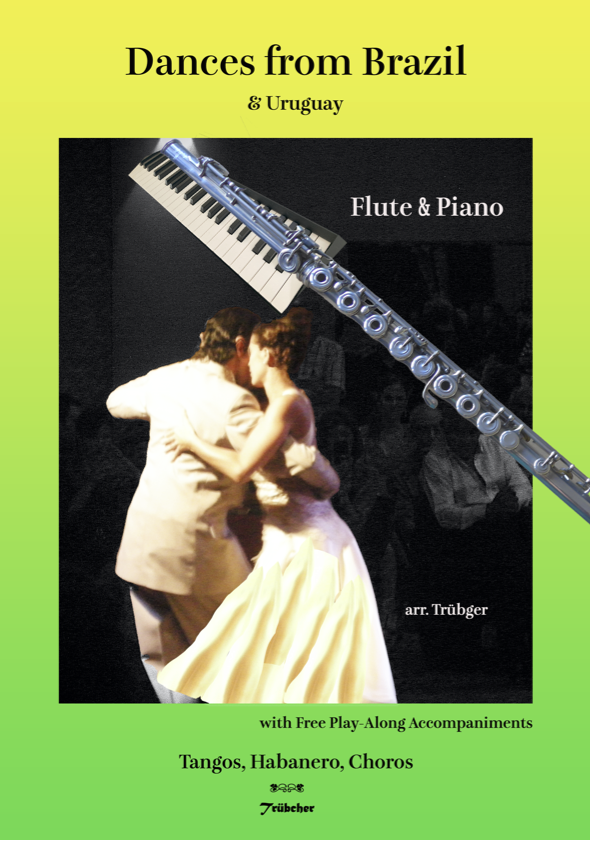 Dances from Brazil (& Uruguay) - Flute & Piano with free Play-along
---
Earn 0 reward points
---
Instrumentation: Flute & piano.
Eight Tangos, Chôros and Habanera.

Difficulty Level: 

Intermediate - advanced.
Arranger: Roz Trübger.

Format:

Printed Edition or PDF digital download

979-0-708135-98-2
I am very excited to present this stunning edition of Brazilian pieces (and one from Uruguay) including Abreu's ever popular Tico-Tico no Fubá, and the dazzling Atrahente by Chiquinha Gonzaga, who is famed in Brazil as an important female composer. Of the eight pieces, only Marulhos was originally written for flute and piano, and the rest have been arranged by me - as I am a flautist, I have made sure that they are rewarding to play as well as engaging for audiences.
All the pieces stem from an era when Rio de Janeiro was an especially exciting place for musicians to work, as Brazilian music was emerging with its own national style. Merging European dance music with Latin style, Tango and Chôro (trans: lament) are typical with characteristic melancholy garnishing strong, energetic rhythms.
Play-Along Accompaniment for every piece are free to stream from our YouTube Channel
Trubcher Playlist 'Dances from Brazil' for flute & piano
A full list of contents is given in More Details
CONTENTS:
O Pyrilâmpo (Brazil) tango-lundu - Germano E. Lopes 
Um chôro na Praia Grande (Brazil) - Eduardo Souto 
Atrahente (Brazil) - Francisca Gonzaga 
Day Break, ainda não morreu (Brazil) tango - Francisca Gonzaga 
Isto é Bom!.. (Brazil) chôro carioca - Eduardo Souto 
Marulhos (Brazil) tango argentino - Eduardo Souto 
Tico-Tico no fubá (Brazil) chôro sapéca - Zequinha Abreu 
Habanera (Uruguay) - Philippe Courras
Composers represented in this edition are:
Germano E Lopes : very little is known about him, although he seems to have been a musician of importance, active as a composer, pianist and conductor in Rio de Janiero in the last half of the c.19th.
Francisca Gonzaga aka Chiquinha (1847 – 1935) was a composer and pianist.She defied convention in order to pursue a career in music and ultimately to live with the man she loved.
Philippe Courras (1863 - 1920) was born in Montevideo, Uruguay, although he spent most of his working life in France.
Zequinha Abreu (1880 - 1935) is probably the best known of the composers represented in this book, but not necessarily the most influential of them. He was a composer and pianist, and also played flute.
Eduardo Souto: (1882 - 1942)  was an active and important figure in Brazilian music. As well as composing, he formed ensembles and founded the Casa Carlos Gomes