Dvorak Serenade arr. 3 piccolos & piano solo [1st movement]
Dvorak Serenade arr. 3 piccolos & piano solo [1st movement]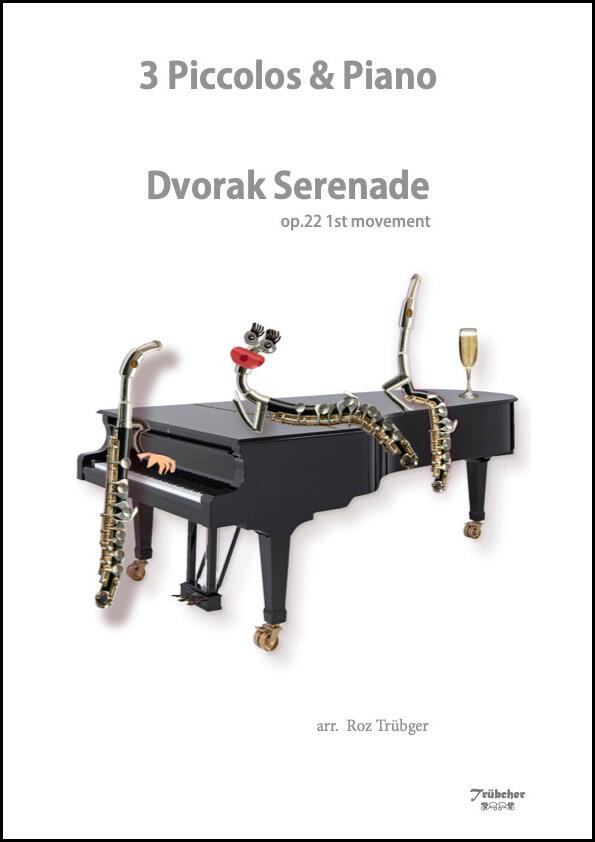 Dvorak Serenade arr. 3 piccolos & piano solo [1st movement]
---
Earn 0 reward points
---
Instrumentation: piano solo, 3 piccolo flutes
Composer: DVORAK, Antonin (1841 - 1904)
Difficulty level: high intermediate to professional.
Arranger: Roz Trubger
Duration: ca. 4:00"
979070-8209-14-0
Whether you're a seasoned piccolo player or an eager explorer of new artistic horizons, this extraordinary arrangement of the Serenade (1st movement for strings) is sure to leave you mesmerized. Experience the sheer brilliance of the intricate interplay between the piccolo trio and the piano, as they breathe new life into Dvorak's cherished composition. Immerse yourself in the sonic splendour as interpreted by the conversation of piccolos and piano, and let the sheer power of the music, resonate deep within your soul. 
The first performance of this edition was given by an all star cast of piccolo players: Peter Verhoyen, Gudrun Hinze and Snjezana Pavicevic in Belgrade, May 7th 2023.
The arranger is a piccolo player and her transcription is designed to suit the instrument as well as drawing inspiration from the piano concertos by Brahms.
CONTENTS:
piano part
piccolo parts
score / partitur
PDF download = 22 pages