Weber : Fantasia & Rondo : piccolo & strings [& piano reduction]
Weber : Fantasia & Rondo : piccolo & strings [& piano reduction]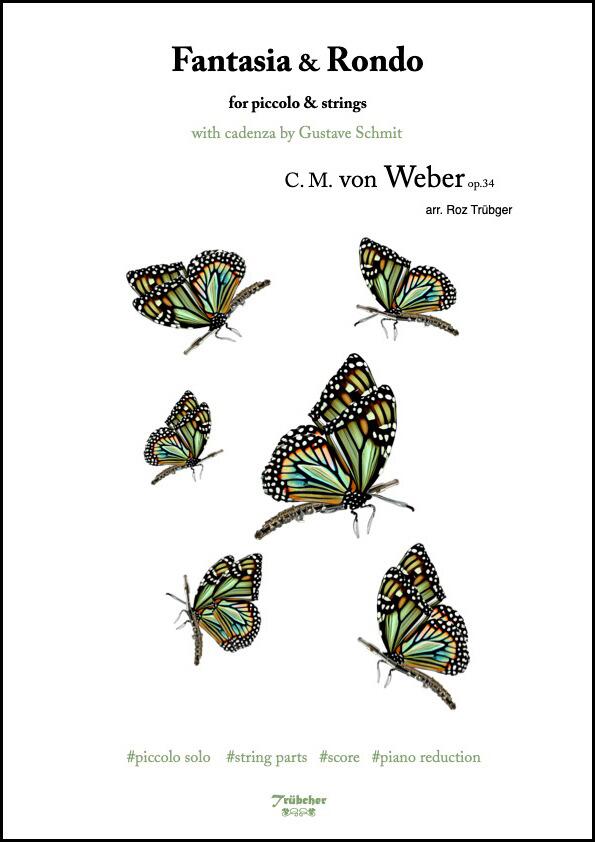 Weber : Fantasia & Rondo : piccolo & strings [& piano reduction]
---
Earn 0 reward points
---
Instrumentation: piccolo, vl1, vl2, vla, cello 
with piano reduction

Composer: WEBER, Carl Maria von (1786 - 1826)
Difficulty level: Advanced
Arranger: Roz Trubger
Duration: ca. 8:00" [plus cadenza]
979070-8209-15-7
Fantasia & Rondo can be played as intended with string quartet or string orchestra, or it can be performed with the piano reduction instead.
The synergy of the piccolo's shimmering tones, delicately interwoven with the expressive voices of the strings, creates a fusion of talent and artistry in a harmonious tapestry that will captivate your senses, transporting you to a world of beauty before plunging you into a light hearted frolic in the Rondo.
The cadenza provides an excellent opportunity for a player to demonstrate his technical prowess.
This edition is based on the unpublished transcription for flute of two movements of Weber's opus 34 with a substantial cadenza by Gustave Schmit, a pupil of Taffanel and Professor of flute at the Conservatoire Royal de Musique in Liège.
PRINTED EDITION CONTENTS:
piccolo part
string parts
score / partitur
piano reduction
PDF digital download separately according to choice.