Hofmann, L. : Flute Concerto in D - 1st movement for flute & piano or flute duet
Hofmann, L. : Flute Concerto in D - 1st movement for flute & piano or flute duet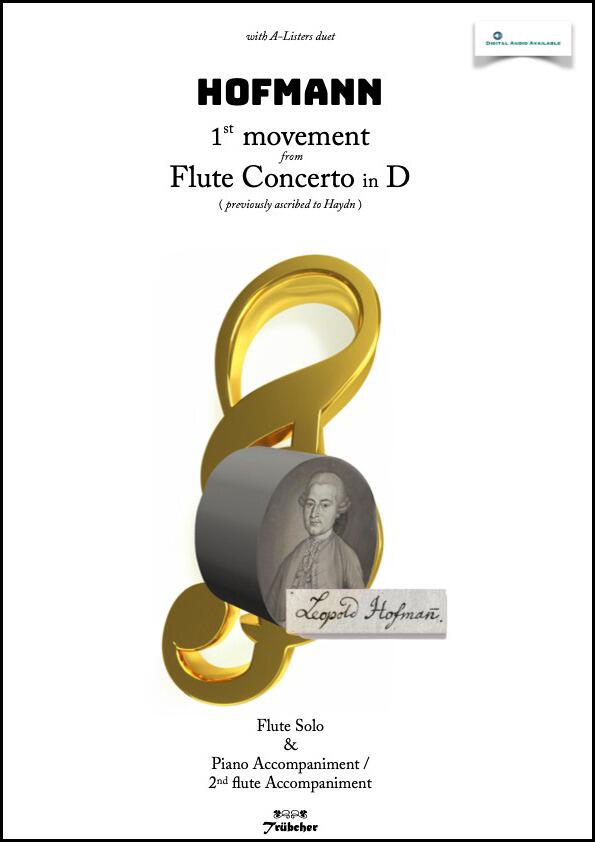 Hofmann, L. : Flute Concerto in D - 1st movement for flute & piano or flute duet
---
Earn 0 reward points
---
Movements:

(1) Allegro moderato
Composer:  HOFMANN, Leopold (1738 - 1793)
Instrumentation: flute & piano / flute 1 & flute 2

Difficulty Level: 

Advanced [ UK grade 7 ] *
Duration: 6:15" [approx]

Genre: 

Classical
979070-8209-17-1
The new 2023 edition with revised flute accompaniment, improved cadenza and better lay-out. The Classical flute solo is a bubbly delight that has a bouncy first subject and flowing triplets, offering plenty of scope to improve or demonstrate skills.
Hofmann and Haydn shared an intense dislike of each other, so it is especially ironic that this concerto was, for many years, previously assumed to have been composed by Haydn.
The piano part has been constructed out the orchestral parts by Roz Trübger,  who also created the duet version, in which the accompaniment is compressed into a single line for a second flute player.
The digitally-prepared play-along piano accompaniment is intended as a rehearsal aid and therefore has a shortened introduction of just 4 bars before the flute enters.
SAMPLE:


*formerly, this movement was part of the Trinity Guildhall grade 7 syllabus for flute.
CONTENTS: flute solo, piano accompaniment, duet version
PDF = 21pp
MP3  file size = 7.7MB