ROUSSEL : Joueurs de Flûte - flute with accompaniment for piano or flute 2
ROUSSEL : Joueurs de Flûte - flute with accompaniment for piano or flute 2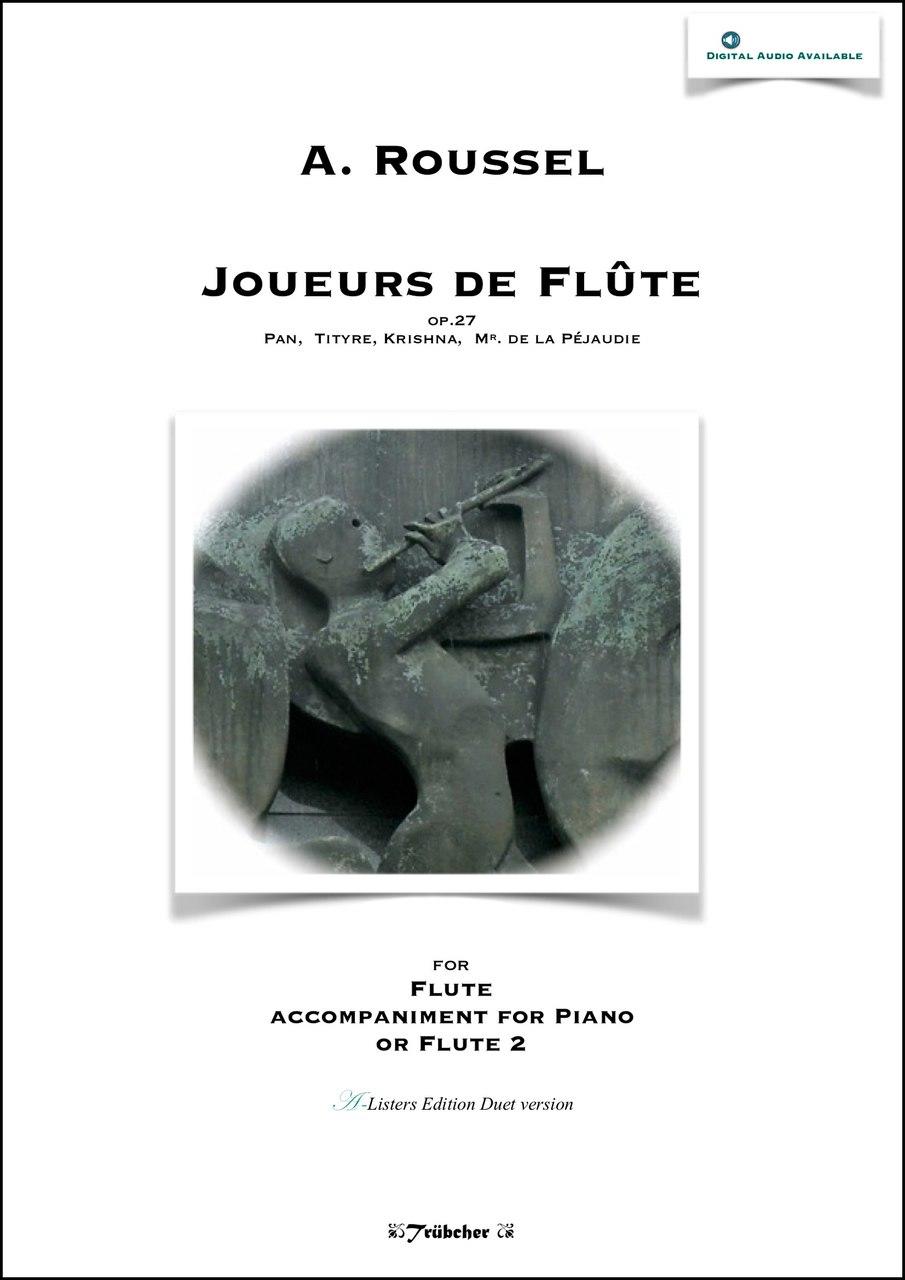 ROUSSEL : Joueurs de Flûte - flute with accompaniment for piano or flute 2
---
Earn 0 reward points
---
Contents 

(1) Pan, (2) Tityre, (3) Krishna, (4) Mr. de la Pejaudie
Composer: ROUSSEL, Albert (1869 - 1937)

Instrumentation: 

flute and piano / flute and flute

Difficulty Level: 

Advanced [ UK grade 7 - 8 ]
Duration: (1) 4'00" (2) 2'00" (3) 4'30" (4) 2'20" [approximations]
2nd flute part by: R. Trubger
979070-8135-03-6
Lush french music with the scent of the orient, presumably inspired by the composer's time in India. Each of the four movements is a character study of a flute player friend of Roussel:-
Pan, [god of nature, always depicted with 'pan pipes'] is dedicated to the legendary Marcel Moyse.
Tityre [Virgil's Good Shepherd who plays on a slender pipe] is dedicated to the Conservatoire's flute teacher Gaston Blanquart.
Krishna [Hindu god who plays a transverse flute] is dedicated to Louis Fleury who also gave the first performance of the work.
Mr. de la Péjaudie [an amazing flute player in a novel by H. Regnier] is dedicated to Philippe Gaubert.
The flute duet* (13 pp) comprises the flute solo plus all the accompaniment compressed into a single line for a second flute player. The accompaniment for piano remains as composed by Roussel.
SAMPLE:


Roz's notes: some students find the rhythms of these pieces to be quite tricky, so I found the duet versions to be especially helpful.
We also publish Tityre in an arrangement for 4 flute players (2 C flutes and 2 alto flutes.
CONTENTS: flute solo, piano part, flute duet version*
PDF = 33 pp
Mp3 file sizes:  (1) 5.7MB  (2) 3 MB (3) 6.5 MB (4) 3.4 MB